In this newsletter we are taking a deeper dive into the automation of shipbuilding and research. Damen talks about their development in automatic welding and Marin talks about the importance of automation in doing accurate and consistent testing.

Model test series; how to make them consistent, repeatable and affordable?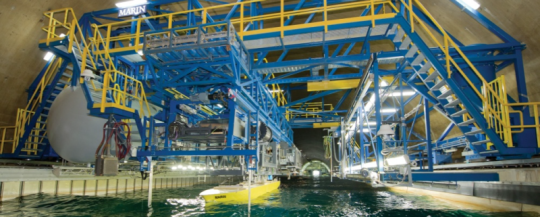 Model tests, we've been doing them at MARIN for over 85 years. We have taken major automation steps, for example with the computer-controlled milling machine that can mill ship models up to 25m in one operation. But there is still much to be automated in the tests themselves.
Roughly speaking, every test has the same actions: the measuring and video system starts, the actuators start, the actuators stop, the measurement stops until a new test starts. Actuators include tow carriages, wave generators and ship propellers. Technicians ensure that they start and stop at the right time and with the right settings.
For large series of tests, where you systematically want to vary one variable per test, it is important that you always perform all these actions in exactly the same way. That requires automation. MARIN is working hard to centrally control all its systems per basin, so that we can carry out a large series of tests one after the other at the touch of a button.
For more information please contact William Otto: w.otto@marin.nl
Damen is taking the leap to Industry 4.0
Timo Kreule
Damen has a strong focus on increasing its efficiency in ship production. One of the factors in this quest is automatic welding, a task that requires a lot of skill and time. The challenge however, is that shipbuilding is characterized by lots of unique parts, that require to be programmed one-by-one.
To tackle this problem and gain hands-on experience, Damen R&D teamed up with a Dutch robot integrator. A software was developed for ship production that enables a welding robot to program itself. First, a 3D-scan of a component is made, the robot then determines where the welds should be and in what order. In this way, one robot can replace four manual welders, always delivering constant speed and quality.

The lessons learned are now used to make our yards ready for the future of shipbuilding! A clip of the robot in its test-environment is seen by going to this page or scanning the following QR-code:


Career
Would you like to gain experience in the maritime sector, in addition to your studies? Then we may have the perfect opportunity for you at our Research & Development department! Check out our vacancy!
Are you looking for an internship within a dynamic and international company, in which you are given responsibility and the chance to discover the wonderful world of shipbuilding?
Submit your open application via: career.damen.com
If you have any questions regarding internships, events, or other matters, please contact our campus recruiter: Lisa Weggemans via lisa.weggemans@damen.com
If you have any remarks regarding this newsletter, please send me an email at secretaris@froude.nl.
With ever loud Splash,




Loek Vliex
Secretary