With a new year around the corner there are also new career opportunities available. In these trying times its great that many businesses are still focusing on research and innovation. In this edition of the newsletter we will be taking a peak into a few companies newest innovations and what effect they can have on our future.
IoT, Machine Learning and Data Driven Decision Making
Within Spliethoff Group, we find it very important to optimize our fleet's operational performance and minimize our environmental footprint. To accomplish this, we have designed our own performance monitoring system. Within this system, we use IoT technology to collect the operational data from our vessels, this not only enables the crew to be acutely aware of their vessel's performance and but also permits the onshore operations team to view a real-time data stream of the vessel. Furthermore, machine learning is used to analyze the data which can then be used to create a digital twin of the vessels. These digital models are used to run detailed simulations on performance-optimizing measures and technologies. It also enables us to create a detailed benchmark of the ships. This data-driven decision-making process enables us to maintain a high operational performance of our fleet and to reduce emissions while doing so.
We are aiming to improve our maintenance strategy with the assistance of data. Currently, we have a position for a master thesis internship on this subject. For this internship, we are looking for someone who is good at modeling and is interested in diesel engines. If you are interested in this graduation opportunity, do contact fuelefficiency@spliethoff.com.
Besides this, we are always looking for talented engineers to strengthen our team. See our website (spliethoff.com/career/vacancies/office/) for open vacancies.

On 10 December 2020, the online session 'Careers in Offshore Wind – Powered by Navingo Career' will take place. Discover career opportunities and impressive projects of the companies in the maritime sector and start connecting. HR Managers will give you tips that will help you apply to these companies. Moreover, you'll find out more about the training focused on offshore wind industry.
Working offshore is different than working onshore. Working in offshore wind doesn't only mean jobs in technical functions in wind turbines or on a ship. Onshore, fellow workers are needed to support these people. For example as Tender Manager, Project Engineer, Planner, Procurement Manager, Electrotechnical Engineer or Maintenance Coordinator.
Besides watching showcases and interviews, you can also get a matching interview with the participating companies.
Register now for free via registration.navingocareer.com.
Do you want to contribute to a green and sustainable future? And find out more about what makes a career in offshore wind so special? Participate in the online thematic session of Navingo Career: 'Careers in Offshore Wind' on Thursday 10 December from 14:00 till 16:00.

New Zero Emission Lab for pioneering research
A major initiative involves the extension of the existing cavitation tunnel facility to develop the new Zero Emission Lab. This engine room of the future integrates power and the hydro propulsion system and enables the representative coupling of the propulsion hydrodynamics with the power supply. ZEL is a unique test facility worldwide for the research and testing of future marine propulsion and power systems, applying realistic, dynamic operating profiles.
On the one hand, ZEL will contain the physical hardware of the future engine room. Typical power components are fuel cells, batteries, supercapacitors, electric machines, advanced internal combustion engines, and a gearbox for hybrid solutions. Supporting components are storage for energy carriers, electrical infrastructure in DC and AC, advanced automation and control systems, and integrated cooling and HVAC systems.
On the other hand, the engine room hardware connects to the hydrodynamics through a real propeller in the cavitation tunnel and an additional electric machine which is controlled by sophisticated hydrodynamic algorithms. These will simulate the dynamical behavior including acceleration and deceleration, cavitation and ventilation, behavior in waves and maneuvering, etc.
With simulation, monitoring, and big data technology, a so-called digital twin of the ZEL will be developed as well. The digital building blocks enable us to build and operate ships in virtual reality. The digital twin accounts for scaling (effects) and effective system integration.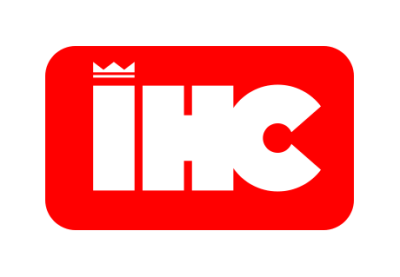 On the road to emission free ships
Royal IHC offers innovative solutions for the maritime industry. Apart from their expertise in engineering and production of high-performance integrated ships, Royal IHC has conceived countless solutions to overcome the challenges of the industry.
Emission reduction is one of the biggest challenges for the maritime industry, a transition to low-emission ships is not only necessary to meet the ever stricter regulations, but also to meet the goals of the Paris climate agreement. Conventional fossil fuels shall in term be replaced by cleaner alternatives, which are either based on biomass or produced from renewables.
To better understand these new developments Royal IHC initiated the research and development project "Zero Emission Vessels". In this we will focus on where we as IHC can make a difference: integration of alternative fuels and clean propulsion systems in complex working vessels. The goal is to develop zero emission concept ships and to create tools to optimise fuel efficiency and emission reduction in an early stage. This way we want to start to understand what is possible and where the challenges are. This is how we will set the first steps to create emission free ships.
Curious about your career opportunities with Royal IHC? Discover all internships and jobs at royalihc.com/careers.

Innovation at Feadship
Although every new Feadship is an innovation in itself as we constantly strive to make each Feadship in our fleet better than the last, our latest efforts in the field of innovation relate to sustainability and data analysis.
Sustainability – As a yacht builder we cannot produce alternative fuels ourselves, but we can promote the use of alternative fuels by designing yachts which are both gorgeous and green. No one knows what the fuel of the future will be, so therefore we try to be flexible and prepare ourselves and our yachts for different types of alternative fuels.
Diagnostics – The latest developments in AI and IoT have made it possible to retrieve and analyze the huge amount of data which is generated on our yachts. Challenges we are facing are not only related to visualization of the huge amount of information, but also include promoting collaboration between suppliers which all use their own unique systems. This data is translated to useful insights which can be used by our specialists in Structural & Mechanical Engineering and Naval Architecture to further perfect our designs and processes.
Working at Feadship
Feadship is a partnership between Royal Van Lent Shipyard, Koninklijke De Vries Scheepsbouw and De Voogt Naval Architects. These three companies have several production facilities located in different parts of The Netherlands. Each part of the Feadship Group has its own expertise and specialists. Discover the Feadship Family and check the vacancies on our careers website: www.werkenbijfeadship.nl

Innovation @ Damen Shipyards
Did you know that in 2019, roughly 90% of the trade on our planet was carried by ships? This means that any initiatives aimed at increasing efficiency and reducing emissions in the maritime sector could have a major impact. This is one of the reasons why innovation is one of the key pillars of Damen!
We work hard on different innovations, and one of them is our Triton project. This project is a remote monitoring and insight platform for our ships, to increase ship safety, efficiency, and reducing emissions.
The results of the Connect Vessel Platform are significant, offering predictive maintenance, remote services access, and savings in fuel consumption. Furthermore, this is a platform with which Damen can collaborate - sharing its knowledge with the wider maritime eco-system. It also assists Damen in its graduation from a shipbuilder to maritime services provider - assisting its clients throughout the entire lifecycle of their vessel, from lead to decommissioning.
Check out our video with Arnout Damen, for a more in-depth look at the system!
Are you looking for an internship within a dynamic and international company, in which you are given responsibility and the chance to discover the wonderful world of shipbuilding?
Submit your open application via: career.damen.com/internships. If you have any questions regarding internships, events or other matters, please contact our campus recruiter: Lisa Weggemans via lisa.weggemans@damen.com
If you have any remarks regarding this newsletter you can always email me at secretaris@froude.nl.
With ever loud Splash,




Loek Vliex
Secretary